Raincross Boxing Academy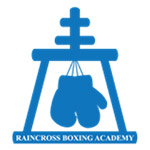 Our program started from the idea of a Riverside Police Detective. He partnered with UCR's Highland Gloves Boxing Club, and in 2014 the established the successful program known as Raincross Boxing Academy, to create a free boxing program for students, their families, and professional and amateur boxers that included community service and education in Riverside, CA.
The Raincross Boxing Academy program is designed to instill discipline, community involvement, and a healthy lifestyle for the at-risk youth of Riverside. The organization serves our community and students through community events and weekly tutoring and workouts with students in the Riverside Unified School District. The gym is the proud home to over twenty professional and amateur boxers. This is a FREE boxing program, so be sure to visit Raincross Boxing Academy's website for more information.
---
Program Includes:
FREE Boxing Program
Strength & Conditioning Training
Tutoring Program
Community Volunteering
Competitions
Administrative Positions
Mentorship Program
Requirements:
Mandatory tutoring 2 times a week for anyone under 18
First timers must attend orientation
Participate in community service
Read and sign Rules and Regulations
Volunteers over 18 are welcome (must have background checked and interviewed)