Virginia Blumenthal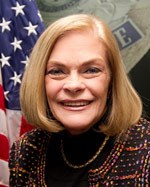 VIRGINIA M. BLUMENTHAL began her professional career as a school teacher in Riverside, California.  Once she obtained her law degree she opened a law firm and has accumulated a long list of accolades in over 37 years of practice.  Today, Ms. Blumenthal is one of the most recognized litigators in California.
The National Trial Lawyers just named Virginia Blumenthal as one of the Top 100 Trial Lawyers in the U.S., and U.S. News Premier listed Blumenthal Law Offices as a Top Ranking Law Firm.  California Woman of the Year-2010, Virginia has also been named "One of the Best Women Litigators in California" and as one of the "Most Influential Attorneys in the State of California" along with "One of the Best Lawyers in San Bernardino and Riverside Counties" and "Super Lawyer in California".  This is only a few of the long list of accolades Ms. Blumenthal has accumulated over 37 years of practice, including being listed in Best Lawyers in America for over 25 years.  She has an "AV" rating, the highest possible rating by the leading national attorney directory, Martindale-Hubbell.
She is currently on the Riverside Community College District Board of Trustees.  She has served as President of the Riverside County Philharmonic, is one of the founders of the Riverside County High School Mock Trial program, and a founding director for the Riverside Police Foundation.  Virginia was a Board of Directors Member for Riverside Boys and Girls Club; Riverside Opportunity Center Board of Directors Member; League of Women Voters Member; Riverside County Bar Association; California Attorneys for Criminal Justice; Head Judge of the Riverside County Spelling Bee for over 30 years; and Monday Morning Group.
She has received numerous awards and recognitions for her herculean volunteer contributions to the community including the distinguished Gold Key Award from Soroptimist International of Riverside, the Athena Award, YWCA Women of Achievement Award, NAACP Law & Justice Award, and was named as a "Person Who Makes a Difference".  Virginia has been recognized by the President of the Unites States; the Governor of California; the Mayor of Riverside; the California State Assembly and State Senate; the Riverside Board of Supervisors and the Riverside City Council.  She is mother of four children and grandmother to 6 grandchildren.