Sergio G. Diaz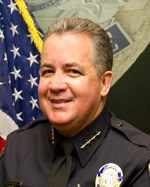 Former Chief Sergio Diaz is an accomplished criminal justice leader who has transformed his professional philosophy of respect for all persons into a working practice of collaboration. In this collaboration, his goals are to achieve a higher degree of community safety through implementing practical solutions to reduce crime and fear and to continue to develop the leaders of the future. He is always working to increase the quality of life of the people he serves.
One of the country's most respected criminal justice leaders, he is known for his responsive, purposeful, and innovative approach to contemporary policing issues. Diaz accepted his current assignment as Chief of Police for the Riverside California Police Department in July 2010, after spending over thirty-three years with the Los Angeles Police Department in various positions.
Sergio Diaz places the highest value on critical thinking and creative problem-solving to proactively prevent and resolve crime and quality of life issues. A testament to these skills and his leadership are the various community enhancement programs, revisions to the police department training curriculum, and personal participation in countless successful and high profile public assemblies during his tenure with the Los Angeles Police Department.
Sergio's rise through the ranks of the LAPD provided him with practical experience in all aspects of municipal law enforcement and a profound resolve to preserve the rights of people to live and work in a safe environment. As the LAPD's highest ranking bi-lingual officer, Diaz reached out to community and civic leaders, businesses, and the media to forge relationships that heightened awareness and developed realistic solutions to reduce and prevent crime.
Since he was Chief of the Riverside Police Department, Diaz had focused on reducing crime, enhancing the Department's relationship with the communities it serves, developing personnel to ever higher standards of service and achieving greater efficiencies in the delivery of police services.
From humble beginnings as a refugee immigrant, Diaz has a realistic understanding of the value of community support systems and the outcomes that can be achieved by seizing opportunity in the midst of crisis. His insight into leadership, mentoring and education has made him a sought-after speaker at community meetings, commencement exercises, leadership forums, and criminal justice programs.
Sergio Diaz earned his Bachelor of Science degree in Criminal Justice Administration from California State University, Los Angeles, while working full-time as a patrol officer. He subsequently completed Master Public Administration and Policy coursework at California State University, Long Beach. Always, interested in increasing his knowledge-base, Chief Diaz completed his certificate in Criminal Justice Education with the FBI National Academy. Chief Diaz is a member of the International Association of Chiefs of Police, Police Executive Research Forum, FBI National Academy Associates and the California Peace Officers' Association.
Sergio and his family reside in Riverside.