Ramon Alvarez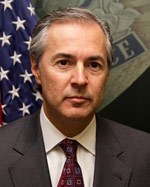 When Ramon Alvarez took over the Riverside (CA) Lincoln-Mercury franchise in October 1995, it was a failing dealership that sold 10 vehicles a month.  Since that time,k Alvarez has:
Transformed Alvarez Lincoln-Mercury into the fourth largest Lincoln-Mercury dealership in California as measured by sales volume, and is ranked 12th in the United States for navigator sales
Added, in October 2001, Alvarez Jaguar.  In recent years it has ranked #1 in highest percentage of objective for sales in the market area
Designed and constructed a modern sales and service facility that integrated Jaguar, Lincoln and mercury while continuing to do impressive sales and service volumes on the same site
January 2011 founded Alvarez Electric Motors Company, and electric car company, to distribute low speed electric vehicles in the United States and South America.
January 2011 formed a partnership with Univison Radio for El Show de Don Ramon.  A Hispanic radio show attending to the automotive needs of the Hispanic Community.
As he has built his high-line vehicle business, Alvarez has been increasingly recognized for his ability to successfully sell to the region's emerging markets.  A Fortune magazine article in 2001 called him a trailblazer who was "enabling Ford to reach its most dynamic future market – minority ethnic groups."
Alvarez currently oversees all Hispanic marketing efforts for Lincoln-Mercury in California and is founding member of Ford Motor Company's Minority Dealer Association.  In 1999, he led the Hispanic Chamber of Commerce as President.
In addition to running one of the largest minority-owned dealerships in the West – one of only two Hispanic Jaguar center in the country – and as of May 2009 earned th e#1 Hispanic owned business sin the Inland Empire – Alvarez has served the motor vehicle industry in several capacities:
Appointed by Governor Arnold Schwarzenegger to California's New Motor Vehicle Board in 2007.  Elected to Vice President February 2009.  Elected to president January 2011.
President of the Riverside Auto Center (2002-2005)
Member and Chairman Lincoln-Mercury Dealer Association (2000)
Among man awards and distinctions, Alvarez Lincoln-Mercury has twice won honors in the Ernest & Young Entrepreneur of the Year program.
Civic Involvement
Alvarez has made a very strong commitment to supporting educational, social, cultural, and sports activates in the riverside area anda has gained wide appreciate for his civic mindedness.  Among his activities:
Lorena Ochoa Golf Foundation, Vice President (2010)
Professional Golfers Association, Board of Directors (2010)
Olive Crest Hispanic Foundation Chairman (2007)
Boy Scouts of America Board West Region President (2006)
Riverside Community Hospital Board of Directors (2005)
Inland Empire Economic Partnership Board Chairman (2005)
Chairmen Small Business Collision for California, Appointed by President George W. Bush (2004)
Corona Chamber of Commerce Board Member (2003)
Boy Scouts of America Citizen of the Year (2002)
Professional Golfers Association (PGA) Advisory Board (2002)
Raincross Club Member (2002)
Alliance of Ford Motor Minority Dealer Association Founding Member (2002)
University of California, Riverside Board of Trustees (2001)
Appointed by Attorney General Bill Lockyer, California Commissioner on Access to Justice (2001)
Riverside Community College Foundation (200)
Riverside Community Hospital Board of Directors (2000)
YWCA Advisory Board (2000)
Riverside Hispanic Chamber of Commerce President (1999)
Great Riverside Chamber of Commerce Board member (1996)
Ford Motor Company Society of Leasing Professional Dealer Award (1996)
Greater Riverside Chamber of Commerce Business of the Year (1996)
University of California Riverside Entrepreneurial Prep Program (1996)
Greater Riverside Chamber Hispanic Business of the year (1996), (2011)
In 1997, Alvarez became the founding sponsor of Fiesta De La Familia, which has grown to be the largest Hispanic cultural event in the Inland Empire.  In 2005, the family-oriented, alcohol and tobacco-free event attracted over 70,000 people.
Family Life
Ramon Alvarez was born in San Diego, California and raised in Tijuana, Mexico.  He attended Southern College and graduated with a degree in Business Administration–Finance in 1980.
Alvarez attributes his business skills to his family's tradition of entrepreneurialism.  Their enterprises have included diverse real estate holding in commercial buildings, parking lots and billboards.  His grandfather founded Aeroias Contreras, the first airline company to serve Mexico.
He currently lives in riverside, California and is married to Araceli, with three children, Maria Josse, Ramon Jr. and Sebastian.