Mary Parks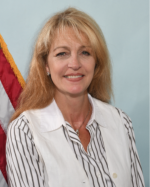 Mary Parks is an Inland Empire based journalist and television host who has spent more than 30 years working in all forms of the media. Mary is an Emmy-Award winning writer and a Golden Mike recipient.
She is part of the Charter-Spectrum team launching a 24-hour Los Angeles news channel in November.
Mary is also creator and host of "American Spirit", a weekly television series seen on PBS -the Empire Network. American Spirit stories air globally on Voice of America television and Mary writes a monthly American Spirit column for West Coast Magazine.
Mary teamed up with her long-time friend, attorney Virginia Blumenthal, to produce and co-host a weekly radio show "The Verdict with Virginia" on AM590-The Answer.
Mary has been a Public Information Officer for Riverside County Social Services and The Office of the District Attorney since 2012.
Mary's volunteer contributions have been recognized by the POTUS, Governor of California, State Assembly and State Senate. Mary received an appointment from California's Governor in 1997 as an advocate for persons with developmental disabilities.