Ellie Bennett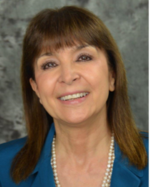 Ellie Bennett is long-time community activist and civic leader, with a combined 35 years proudly serving her constituents and peers in the City of Riverside as a volunteer, organizational leader, and executive management professional.
She spent 15 years as C.O.O. at Riverside County Regional Medical Center overseeing the publicly funded hospital system. Prior to RCRMC, she spent 15 years leading Riverside Meals on Wheels as its executive director.
She has volunteered extensively in support of organizations such as the Family Services Association, United Way, Community Connect, Unforgettable Foundation, and the Fox Foundation, among others, and also served on the Riverside Human Relations Commission and Personnel Board. She's also an active member of the American College of Healthcare Executives, Rotary Club of Moreno Valley, and Wesley United Methodist Church and its Inland Harvest food bank.
She holds a Masters of Behavioral Science from California State Dominguez Hills, and Bachelors of Economics from UCR.
She currently lives in Riverside with her family, Richard, their two daughters, Julia and Jessica, her fat cats, and pet tortoise, Cecil.